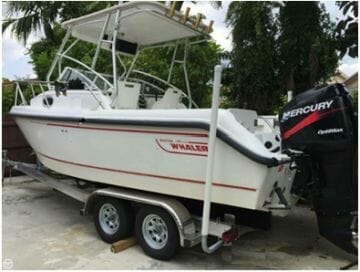 Axles: 2
Material: Structural aluminum & galvanized steel
GVWR: 10,000 lbs. (boat and trailer)
Max Carrying capacity: 8,720 lbs. (boat)
Boat Size: 23'-26' over-all length
Our premium brand is California Coaster, a heavy-duty boat trailer designed specifically for the west coast trailer boater. Each trailer is built from the highest quality materials to ensure durability in salt water, and safety over the road. Each model has our unique "universal fit" feature and is adjustable to fit a wide range of boat brands and models. They are engineered and constructed from the highest quality materials to ensure durability over the toughest roads.
STANDARD EQUIPMENT: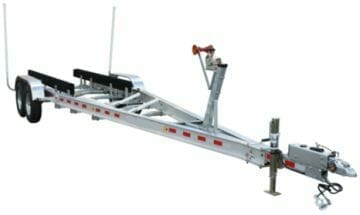 Heavy-duty structural aluminum I-beam frame
Galvanized steel torsion axles (2x)
Flushable disc brakes on all axles
Radial Tires
Heavy-duty galvanized steel and aluminum cross members
Fully adjustable bunks allowing use with different boats
Pressure treated main and bow bunks
Heavy-duty, through-bolted bunk brackets
Commercial grade carpet on bunks
Aluminum diamond plate fenders
Launch ramp loading guide poles
Galvanized steel hardware & U-bolts
Galvanized steel wheels
Heavy-duty drop-leg adjustable tongue jack
Heavy-duty winch with strap
Heavy-duty, adjustable winch stand
Safety chains (2) at coupler
Surge brake actuator with emergency brake lanyard
LED sealed submersible lighting
Safety light reflectors
2 5/16″ ball size
---
Terms and Conditions of Sale: Delivery location: San Diego, CA 92106. Sales tax and license when applicable. 10% deposit with order, balance due prior to pick-up or registration. Trailer compatibility with boat will be based on information provided by Buyer. Seller discloses, and Buyer acknowledges that boat trailers may need adjustment or modification prior to use and as part of routine maintenance, and to meet all road transport laws, and to assure safe use. Warranty service provided through original trailer and trailer component manufacturers.